The Triangle of Reciprocity
We all belong in a group of some sort, it might be a charity, a club, a business or a community. These groups are also part of one or more wider groups and ultimately part of humanity - the Global Village.
We also have Needs, as do others. It's relatively easy to understand what needs our immediate group and the wider world meets our needs but what about the part we play?
What do we do towards meeting the needs of our group and those of the wider community?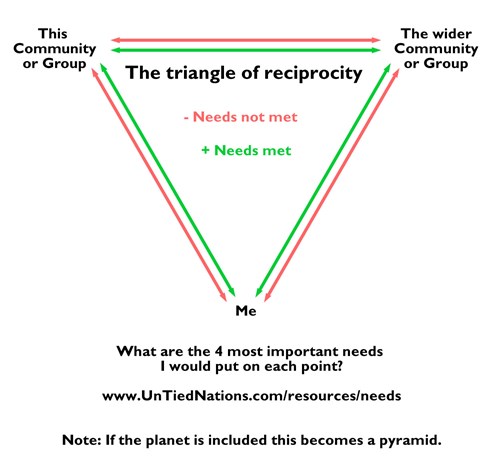 Give the 4 top Needs to the following questions:
Me and my community
My needs +
The communities needs +
My needs -
The communities needs -
Me and the wider community
My needs +
The wider communities needs +
My needs -
The wider communities needs -
My community and the wider community
My communities needs +
The wider communities needs +
My communities needs -
The wider communities needs -